THEORY 11 "BRONZE STEAMPUNK" PLAYING CARDS
At the edge of industry, therein lies Steampunk.
As if forged from a SINGLE brick of bronze, Steampunk Playing Cards are durable and remarkably detailed, inside and out.
Ripped from the pages of science fiction, the gears are turning, the steam is pumping, and the playing cards were finally born. It wasn't easy. The paper used on these tuck cases did NOT exist.
We made the bronze paper from scratch in order to perfectly print the ink that covers its surface in 19th century Victorian machinery.
The boldly stamped, debossed elements cast shadows of illusion and create a perspective of depth and weight. The vents on top of the box invite you to take a look inside.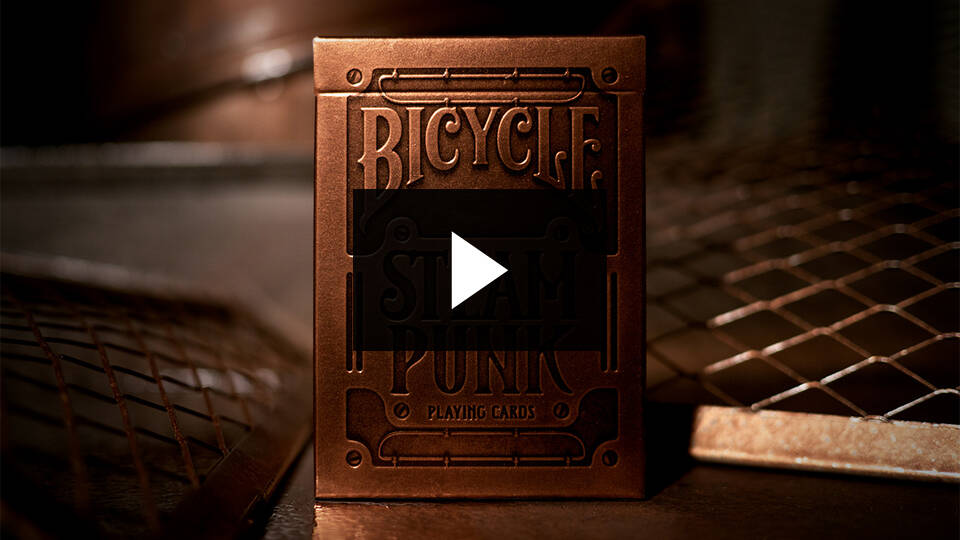 Opening the box, you will discover 52 pieces of machinery. The depth of the playing cards is fittingly unreal.
So unreal, it beckons you to stare at it's seemingly infinite array of detail. Designed by Alex Beltechi and constructed of 12 million 3D polygons. The Jokers are morphed into jet turbines of steel. The Ace of Spades is a window of opportunity to witness the gears of intricate beauty and complexity.
A joint creative collaboration between the Bicycle Playing Card Company and theory11. Produced by theory11 and designed by Alex Beltechi in Romania.
ABOUT THEORY 11:
WE LAUNCHED IN 2007 WITH A TEAM OF 11 ARTISTS UNITED WITH ONE PURPOSE: ADVANCE, INSPIRE & CREATE WONDER.
Since that moment, theory11 has propelled forward to become the largest community of magic creators, with over 1,500 registered artists and hundreds of thousands of members around the world.
To advance the art of magic! theory11 is the largest producer of luxury, designer playing cards. To date, we've designed and produced 78 unique playing card designs. Our goal in playing card design is simple: to push the envelope and create the most breathtaking, innovative, elegant designs.
 1. SHIPPING & DELIVERY POLICY
We ship within 72 hours after payment is processed.
2. ORDER STATUS & TRACKING
All orders placed from Monday to Friday (excluding public holidays) will be processed and shipped within 2 days upon confirmation of payment. This could vary with circumstances such as online security checks, shipping restrictions, payment authorization, packing and dispatching of order. An email confirmation will be sent for all orders once received.
Once the order has been dispatched, an email confirmation will be sent to you with the tracking number. You may check and track the delivery status of your orders with our local logistics partner, with your Order Number. Please provide your contact number under the address selected upon checkout in order for the courier company to contact you in case of any unforeseen circumstances.
International Deliveries
For all international deliveries, the time taken is dependent on our logistics partners and their affiliates.
3. TAXES, DUTIES & TARIFFS
For all international orders, you will need to pay for all import taxes, duties and tariffs (if any) as per your country's governing laws in order to clear customs.
4. MODE OF PAYMENTS
We accept payments via VISA/MASTER credit and debit cards, American Express and PayPal.