"Advice From My 80-Year-Old Self: Real Words of Wisdom from People Ages 7 to 88" by Susan O'Malley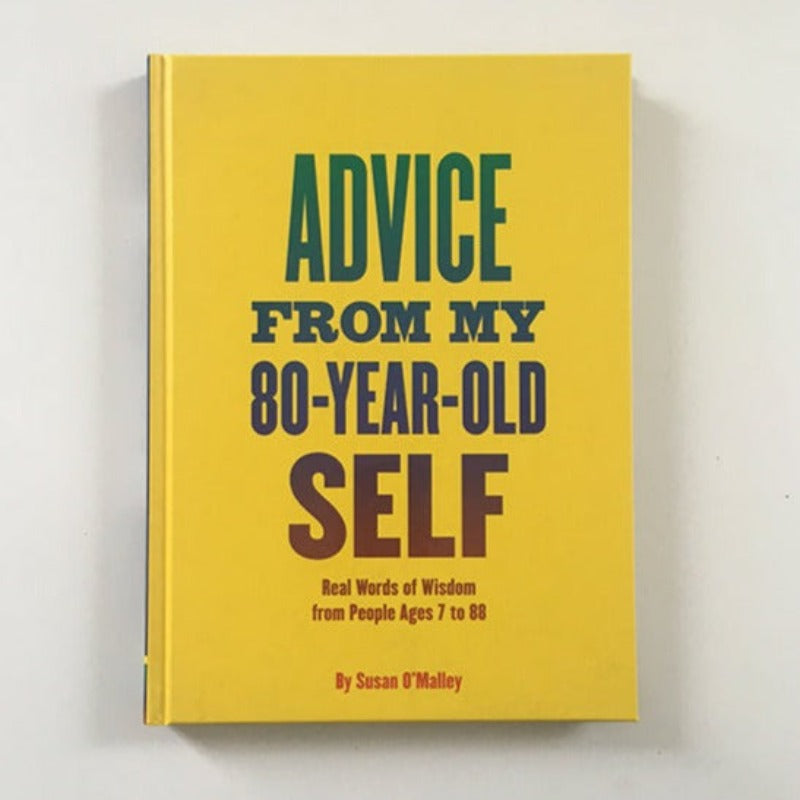 "ADVICE FROM MY 80-YEAR-OLD SELF: REAL WORDS OF WISDOM FROM PEOPLE AGES 7 TO 88" BY SUSAN O'MALLEY
What advice would your 80-year-old self give you? That is the question artist Susan O'Malley, who was herself to die far too young, asked more than a hundred ordinary people of every age, from every walk of life.
She then transformed their responses into vibrant text-based images. From a prompt to do things that matter to your heart, to a reminder that it's okay to have sugar in your tea, these are calls to action and words to live by—heartfelt, sometimes humorous, and always fiercely compassionate.
This stirring celebration of our collective humanity unveils the wisdom we hold inside ourselves right now.
 1. SHIPPING & DELIVERY POLICY
We ship within 72 hours after payment is processed.
2. ORDER STATUS & TRACKING
All orders placed from Monday to Friday (excluding public holidays) will be processed and shipped within 2 days upon confirmation of payment. This could vary with circumstances such as online security checks, shipping restrictions, payment authorization, packing and dispatching of order. An email confirmation will be sent for all orders once received.
Once the order has been dispatched, an email confirmation will be sent to you with the tracking number. You may check and track the delivery status of your orders with our local logistics partner, with your Order Number. Please provide your contact number under the address selected upon checkout in order for the courier company to contact you in case of any unforeseen circumstances.
International Deliveries
For all international deliveries, the time taken is dependent on our logistics partners and their affiliates.
3. TAXES, DUTIES & TARIFFS
For all international orders, you will need to pay for all import taxes, duties and tariffs (if any) as per your country's governing laws in order to clear customs.
4. MODE OF PAYMENTS
We accept payments via VISA/MASTER credit and debit cards, American Express and PayPal.