BAUDELAIRE NATURAL SEA SPONGE
Living up to its name, our silk sponge is as soft as…well, silk. Traditionally used for more delicate areas, such as the face, our silk sponge is still perfectly suited for washing off make-up or just the remains of the day.
DETAILS:
Sea sponges are considered a sustainable resource thanks to their ability to regenerate. They are biodegradable and our traditional method of collecting the sponges does not cause any damage to the environment. Natural sea sponges will last for years with proper care.
Refresh your face any time of day with our soft, sensual silk sponges.
HOW TO ENJOY:
Add your face cleanser or favorite bar soap directly to the sponge and enjoy the silky caress on your skin.
When finished, squeeze out the water and keep in a dry place in your bathroom. A sponge will air dry completely and is naturally resistant to bacterial growth.
If, for some reason, your sponge needs freshening, you can soak for 24 hours in a very mild bleach solution (1 tsp. per gallon).
Includes 1 sponge.
ABOUT BAUDELAIRE:
Nestled in the picturesque Monadnock Region of New Hampshire is the humble home of Baudelaire. We have proudly embarked on our second year at the helm of the cherished Baudelaire brand – and what an amazing journey it has been.
We have had the pleasure of introducing a fresh perspective on artisanal classics and bestowing a revitalized energy to the brand, expanding our product offering while staying true to the brand's origins and what has made Baudelaire a trusted brand for more than 30 years.
We look forward to continuing to lead with an uncompromising dedication to a time-honored artistry – made using natural, superior ingredients.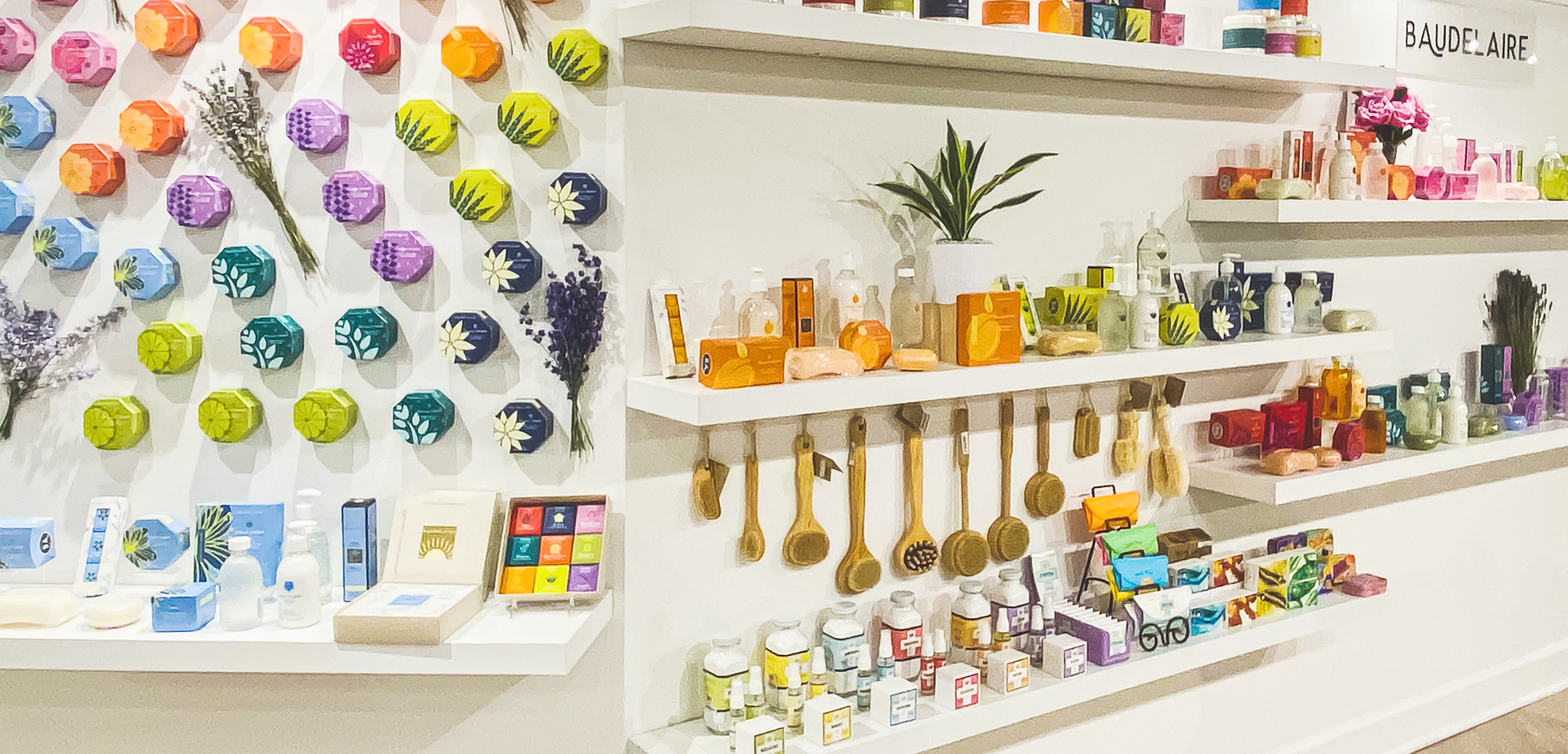 Starting the decade on a high note.
Christoph Oberli and Christina MacLeod proudly took over the reins of the legacy brand, Baudelaire on July 31, 2020. Chris and Christina brought with them more than 30 years of global expertise in the hospitality, luxury marketing, and high-energy start-ups industries.
Frequent world travelers, Chris and Christina hope to explore far and wide for new artisans, eager to share their traditions and craft with the Baudelaire family.
Diverse and passionate, this dynamic team is the perfect match for Baudelaire as it navigates new journeys, while honoring the perfected heritage of the last 30 years.
 1. SHIPPING & DELIVERY POLICY
We ship within 72 hours after payment is processed.
2. ORDER STATUS & TRACKING
All orders placed from Monday to Friday (excluding public holidays) will be processed and shipped within 2 days upon confirmation of payment. This could vary with circumstances such as online security checks, shipping restrictions, payment authorization, packing and dispatching of order. An email confirmation will be sent for all orders once received.
Once the order has been dispatched, an email confirmation will be sent to you with the tracking number. You may check and track the delivery status of your orders with our local logistics partner, with your Order Number. Please provide your contact number under the address selected upon checkout in order for the courier company to contact you in case of any unforeseen circumstances.
International Deliveries
For all international deliveries, the time taken is dependent on our logistics partners and their affiliates.
3. TAXES, DUTIES & TARIFFS
For all international orders, you will need to pay for all import taxes, duties and tariffs (if any) as per your country's governing laws in order to clear customs.
4. MODE OF PAYMENTS
We accept payments via VISA/MASTER credit and debit cards, American Express and PayPal.