BAUDELAIRE BEECHWOOD FOOT FILE 
Pairing traditional Japanese rituals with modern-day sensibility, our elegant beechwood brushes help to cleanse both body and soul.
The ergonomic design in elegant beechwood means comfort and durability in each stroke.
Made from natural pumice to help remove calluses, while ensuring skin stays soft and renewed.
Each brush comes individually packaged in a sophisticated gift box.
DETAILS:
Imagine yourself soaking in a natural spring in the hills of Japan. The steam rising up from the water and dissipating in the cool air - the perfect metaphor for your fading stress.
Made from elegant beechwood, this 8" foot file helps remove calluses and stimulates the regeneration of skin cells.

Designed for beauty and longevity, these timeless brushes are the perfect addition to any bath or shower.
Level of Exfoliation: Firm
WHY EXFOLIATE?
Stimulates healthy circulation
Removes top layer of dead skin cells
Opens pores to air, moisture, and nourishment
Leaves a bright and healthy glow
HOW TO ENJOY:
Great for exfoliating and smoothing dry or calloused skin, particularly in those notorious areas of elbows, knees, fingers and toes!
After each use, rinse with clean cool water, shake out, and hang to dry.
ABOUT BAUDELAIRE:
Nestled in the picturesque Monadnock Region of New Hampshire is the humble home of Baudelaire. We have proudly embarked on our second year at the helm of the cherished Baudelaire brand – and what an amazing journey it has been.
We have had the pleasure of introducing a fresh perspective on artisanal classics and bestowing a revitalized energy to the brand, expanding our product offering while staying true to the brand's origins and what has made Baudelaire a trusted brand for more than 30 years.
We look forward to continuing to lead with an uncompromising dedication to a time-honored artistry – made using natural, superior ingredients.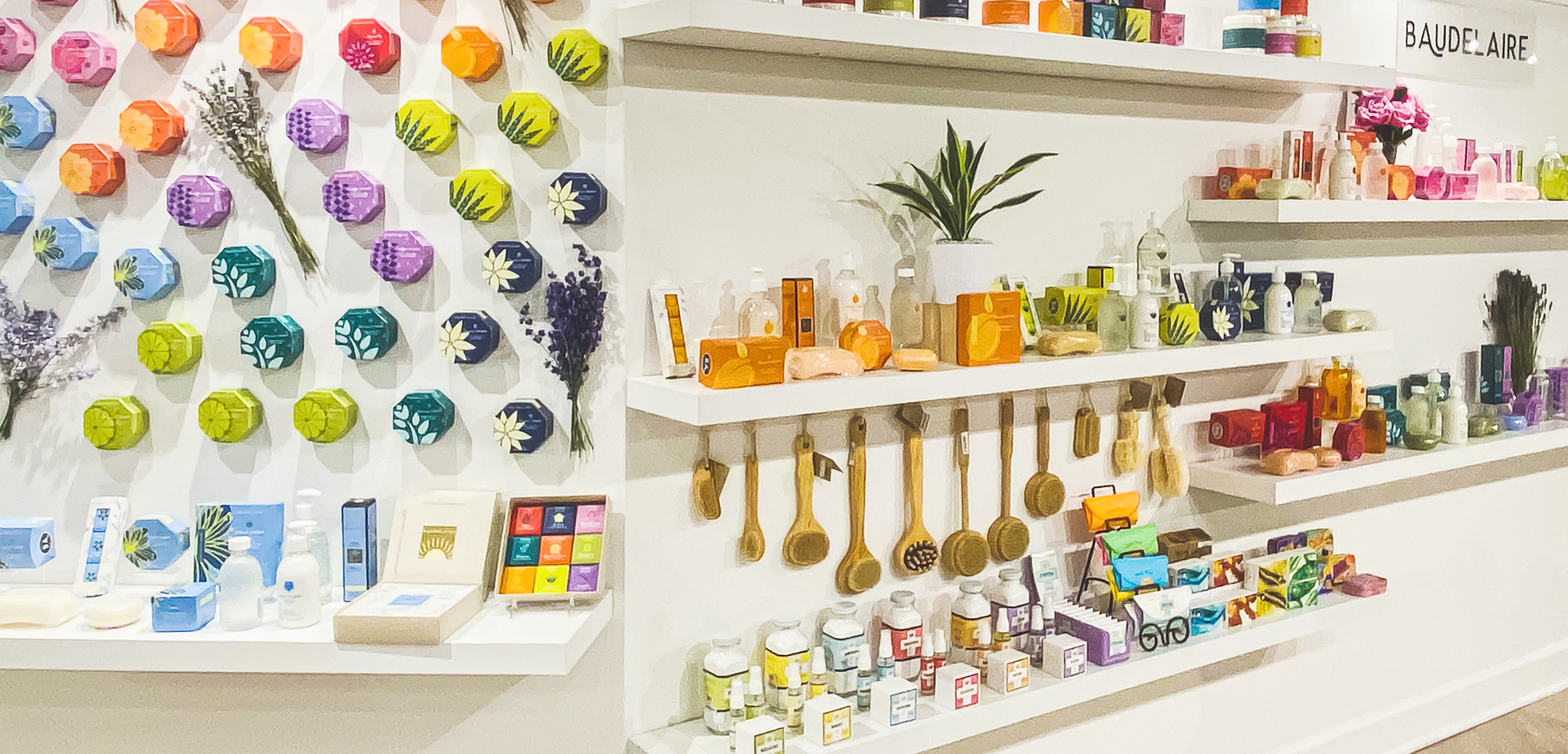 Starting the decade on a high note.
Christoph Oberli and Christina MacLeod proudly took over the reins of the legacy brand, Baudelaire on July 31, 2020. Chris and Christina brought with them more than 30 years of global expertise in the hospitality, luxury marketing, and high-energy start-ups industries.
Frequent world travelers, Chris and Christina hope to explore far and wide for new artisans, eager to share their traditions and craft with the Baudelaire family.
Diverse and passionate, this dynamic team is the perfect match for Baudelaire as it navigates new journeys, while honoring the perfected heritage of the last 30 years.
 1. SHIPPING & DELIVERY POLICY
We ship within 72 hours after payment is processed.
2. ORDER STATUS & TRACKING
All orders placed from Monday to Friday (excluding public holidays) will be processed and shipped within 2 days upon confirmation of payment. This could vary with circumstances such as online security checks, shipping restrictions, payment authorization, packing and dispatching of order. An email confirmation will be sent for all orders once received.
Once the order has been dispatched, an email confirmation will be sent to you with the tracking number. You may check and track the delivery status of your orders with our local logistics partner, with your Order Number. Please provide your contact number under the address selected upon checkout in order for the courier company to contact you in case of any unforeseen circumstances.
International Deliveries
For all international deliveries, the time taken is dependent on our logistics partners and their affiliates.
3. TAXES, DUTIES & TARIFFS
For all international orders, you will need to pay for all import taxes, duties and tariffs (if any) as per your country's governing laws in order to clear customs.
4. MODE OF PAYMENTS
We accept payments via VISA/MASTER credit and debit cards, American Express and PayPal.