SWEYN FORKBEARD "BRITISH GENTLEMAN" BEARD BUTTER

Do you agree that a gentleman's beard should smell empowering and not overpowering?
If so, you need to try the most classic and elegant of our recipes - the British Gentleman. In this beard butter, you will find fresh and woody 100% organic Cedarwood and Scotch Pine Needle essential oils mixed with a hint of the floral Ylang-Ylang.
British Gentleman Beard Butter will make you feel like a refined man, sharp and ready to conquer anyone, anywhere.
British Gentleman Beard Butter is a deep conditioner to soften and promotes healthy beard growth and gives you a light hold to style your beard.
Sweyn Forkbeard British Gentleman Beard Butter is available in 60ml / 2oz aluminum tin.
EASY TO APPLY
Scrape a pea-sized amount of our beard butter with your finger or the back of your thumbnail. Put it in your palm and rub your hands together until our beard butter fully liquifies. Evenly apply it on your beard. Longer beards may require a little more beard butter. Still, you will be surprised how long our beard butter lasts.
We suggest a quick brush after application and you will find your beard to stay in shape, be smooth, and smell wonderful all day.
ABOUT SWEYN FORKBEARD:
Sweyn Forkbeard was the 1st Viking King of England in the year 1013. His son was King Canute (Knut) "The Great". Sweyn Forkbeard was famous for his conquers, beard and immaculate hair even in battle.
In 2015, following research in England, Denmark and Norway, we created our famous recipes. Our male grooming products are 100% Organic and inspired by the natural ingredients used by Vikings and English men in 1013. 

We have been awarded the 2022 MALE GROOMING BRAND OF THE YEAR by Prestige Awards.


We were awarded 2021´S BEST ORGANIC BEARD CARE BRAND - THE UK by Lux Magazine Life (Luxury Awards)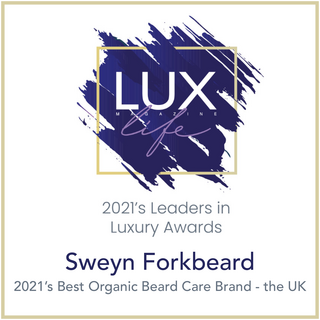 We produce more than 200 Male Grooming Products 100% Organic & Handmade in London (Beard Oils, Beard Balms, Beard Butters, Beard Shampoo, Beard Conditioner, Moustache Wax, Shaving Creams, Shaving Soaps, Face Wash, Face Lotion, Eye Gel, Face Scrub, Clay Pomade, English Shaving Oil, After Shave Balm, Cooling After Shave Gel, Soaps, Lip Balms, Perfumes, T-Shirts, Beard and Moustache Combs and brushes, Straight Razors, Safety Razors, Cut Throat Razor, Barber Vest, Aprons, Barber Tool Roll and some amazing Gifts Sets packed in wooden boxes) 
Sweyn Forkbeard is for the man who fights every day in the globalized world without losing his chivalry and masculinity.
WHAT´S THE BIG DIFFERENCE WITH OUR PRODUCTS?
All of our products are Handmade in London using top quality ingredients. Our products are 100% natural and organic, without parabens, sulphates, artificial fragrances or colours. Ideal for all skin types, including sensitive skin. All our ingredients are vegetal origin so are suitable for vegetarians and vegans, and of course, has not been tested on animals. We are planet friendly brand.
We became the first company selling male grooming products in the iconic Camden Market as well as Jubilee Market Covent Garden, London. Every year Sweyn Forkbeard shares experiences with more than 75,000 men from all over the world. We know absolutely everything about men´s beards, skin, and hair. Sweyn Forkbeard also encourages exclusive, face to face experience sharing between our team and you. Every day we listen and learn from you. We improve our formulas and create new ones with You in our minds.
Our Beard Oils are specially formulated for your beard and skin underneath. It reduces itchiness and flakiness of skin, promotes thicker and faster hair growth, tame flyaway hairs, repairs split ends, and make your hair softer to the touch. Natural oils softens the beard, and Vitamin E content helps to protect your skin from external effects. Our Beard Oils will leave your beard looking and feeling heathier and manlier.
Our Shaving Creams, Shaving Soaps, Shaving Oils and After Shaves do not contain alcohol hence are perfect for sensitive skin. Natural ingredients will give you an amazing razor´s glide. Our Shaving Creams are rated 9.9 in Razor´s Glide by Wet The Face famous Blog.
OUR SOUL:
We love to be in the streets, close to real Men. Online is great, but we love the "Face To Face" contact. 
We support many Charities and make special donations to the people that need help. We do this by creating special products which benefits go to a Charity, donating products for charity events, etc. We are a small company but doing big things thanks to you.
100% NATURAL & ORGANIC

Our British Gentleman Beard Butter is a combination of 100% organic Shea Butter, Cocoa Butter, Mango Butter, Almond Oil, and Coconut Oil. It is enriched with vitamin E and scented with 100% organic Cedarwood, Scotch Pine Needle, and Ylang-Ylang essential oils.
Sweyn Forkbeard beard butters are handmade in small batches by our master blender based in London, UK. We do not use parabens, sulphates, artificial fragrances or colours. Hence, our beard butters are suitable for all skin types, including sensitive skin. They are also vegan friendly.
We are an environmentally conscious brand using only ethically sourced 100% organic ingredients. We do not test our products on animals.


 1. SHIPPING & DELIVERY POLICY
We ship within 72 hours after payment is processed.
2. ORDER STATUS & TRACKING
All orders placed from Monday to Friday (excluding public holidays) will be processed and shipped within 2 days upon confirmation of payment. This could vary with circumstances such as online security checks, shipping restrictions, payment authorization, packing and dispatching of order. An email confirmation will be sent for all orders once received.
Once the order has been dispatched, an email confirmation will be sent to you with the tracking number. You may check and track the delivery status of your orders with our local logistics partner, with your Order Number. Please provide your contact number under the address selected upon checkout in order for the courier company to contact you in case of any unforeseen circumstances.
International Deliveries
For all international deliveries, the time taken is dependent on our logistics partners and their affiliates.
3. TAXES, DUTIES & TARIFFS
For all international orders, you will need to pay for all import taxes, duties and tariffs (if any) as per your country's governing laws in order to clear customs.
4. MODE OF PAYMENTS
We accept payments via VISA/MASTER credit and debit cards, American Express and PayPal.